Click on one of the above photos to view them close up in a slide show!
No metal parts.
Accepts #1 or #3 type pad locks or Koby Safety Lock-Out Tags.
High-tech liquid tight seamless dual rubber gasket.
Easily disassembled in the field for decon.
Strong instrument tethering tool. Dual use with anvil tip.
Manufactured from an engineering grade polymer blend commonly used to replace steel gears in industry, resistant to most chemicals, unaffected by freezing or high temperatures. Smooth acting ergo grip.
Easy on, easy off wing nut.

Koby Environmental's simple to use reliable locking system.
Large, bold, easy to read well ID lettering.
Bright safety coloring.
Light weight, yet super strong.
Flush OD design for easy well installation.
Advanced engineered design will not separate in well.
Easily convertible for vapor extraction, pressure gauges, vacuum gages and threaded line fittings.
Domed top prevents liquids from pooling.
Designed, engineered and manufactured in the U.S.A.
Available worldwide through authorized distributors.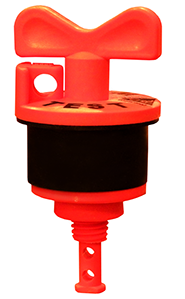 Download
Torquer PDF
© Copyright 2016 Koby Environmental
Website design by: Daniel LaQuay's Imagine That! Photo/Graphic Studio